Rosedale Baptist Church has been a vibrant Evangelical presence in Welland since 1918.  Originally planted by First Baptist, Rosedale was located at the corner of East Main and Scholfield for a number of decades.  Rosedale became an autonomous congregation in 1938, outgrew the original building and moved to its current location in 1969.  We are a member congregation of the Canadian Fellowship of Evangelical Baptists, a network of churches which spans the country from coast to coast.
Rosedale is home to a growing family which is committed to the unchanging gospel of Jesus Christ and looks to the Bible as our final authority.  God's Word teaches that we were created by the Triune God to glorify Him and to enjoy Him forever.  Tragically, each one of us have fallen short of God's perfect standard and our sin separates us from a perfectly holy God.  The Bible reveals God's plan to bring us back into relationship with Him through the death and resurrection of Jesus, His only Son, who willingly died in our place for the sins of every believer.   We begin an exciting new life with God the moment we put our faith in Jesus, repent of our sin and receive the gift of the Holy Spirit.  It is in the context of a local group of believers, called the 'Church' that this new life in Christ is lived out.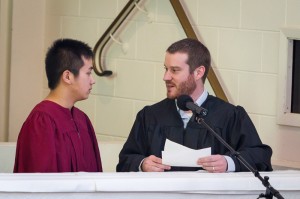 When you visit Rosedale you can expect a warm, friendly atmosphere, opportunities to investigate the basics of Christianity or to grow deeper in your relationship with Christ, strong Christ-centered preaching and teaching, an uplifting blend of contemporary and traditional music and an emphasis on building strong families.
Here at Rosedale, we offer a variety of ministries including:
Small Group Bible Studies
Weekly Prayer Meeting
Free Summer Kid's Camp
Visitation in homes and hospitals
Care for the underprivileged in our community
Evangelistic and Missionary endeavours
Church library and free Christian resources
We warmly invite you to join any of our worship services, our small groups, our times of prayer, and our studies in the Word of God.   If you are just exploring what it means to follow Jesus Christ it would be our privilege to answer any of your questions or to pray with you about any concerns that you may have.  Contact our church office for more information 905-735-0788  or inforosedale@gmail.com