Nursery  
A self-serve nursery is available during our Sunday Worship service for parents who need it.   The Church library is also reserved during both worship services as a quiet space for nursing mothers.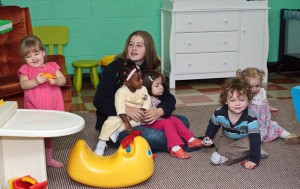 Family Integrated Worship
Rosedale adheres to a family integrated approach to worship in which entire families are worshipping together on the Lord's Day.    Children of all ages are required to remain with their parents.   We understand that younger children sometimes wiggle and make noise during corporate worship, but we refuse to view our children as a distraction!  Children are a blessing from the Lord and they are to be welcomed.   Parents are encouraged to bring books or colouring pages as younger children are learning how to listen, sing, and worship together with the Church family.
Kids Club/ Vacation Bible School  (Ages 4-12)
During the month of July we hold a week long kids club  Kids participate in a fun and interactive program that includes Bible teaching, games, crafts and snacks.   For more details about our Summer Kids Club call the Church Office at 905-735-0788
"You shall love the LORD your God with all your heart and with all your soul and with all your might.  And these words that I command you today shall be on your heart.  You shall teach them diligently to your children, and shall talk of them when you sit in your house, and when you walk by the way, and when you lie down, and when you rise."  Deuteronomy 6:4-7